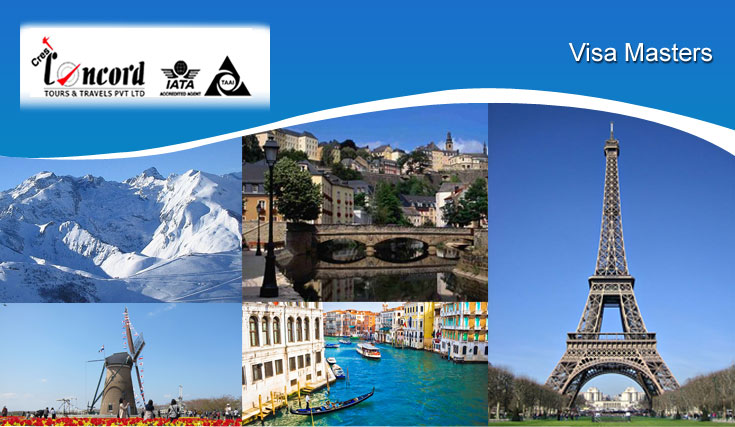 No one in Mumbai can process the Schengen visa as swiftly and as professionally as we can. We are one of the biggest visa outsourcing company in Mumbai and have built our company by building relationships with customers; by being honest, practical and listening to them mostly. We do not believe in a onetime sale. We wow them with fantastic service and also give them the best.

Crest Concord!!! The Schengen Visa Expert in Mumbai, is registered with all the Schengen Consulates here and most of our staff members are present on daily and some time twice daily basis in all the Schengen Consulates. During the peak season , where most of the Consulates are full with their appointments and can only accommodate minimum number of cases to reduce the season load, all our cases are submitted on time and with ZERO % backlog.

One can process visas through other visa facilitator as well, but seeking assistance from Crest Concord, where experienced professionals dedicated in the processing of these documents, makes the visa application a more convenient undertaking.
Our charges are the least, our services are the best and our professional staffs are most experienced !!! So what are you waiting for ? Come and grab a delectable slice of our service and taste forbidden ecstasy!! Please call any of our offices below for a very special Schengen visa processing charge, just for you.
Crest Concord Tours & Travels Pvt. Ltd.
1/5 Banaji Street, Shree Mahavir Chamber
2 nd Floor, Off Cawasji Patel Street,
Fountain, Mumbai 400 001

Tel. : +91 22 22839700 / 01 / 02 / 03
Fax : +91 22 22839704 & 05
Email :

[email protected]




[email protected]





Crest Concord Tours & Travels Pvt. Ltd.
76, Grd. Floor, Ashok Vijay Complex,
326, M.G. Road,
Pune -1


Email :

[email protected]